After only 2 months of work I was today ready to release xfce4-notifyd 0.4.1 (thanks in part to Viktor's fix for make distcheck) with a bunch of fixes and some small features too (and of course lots of translation updates).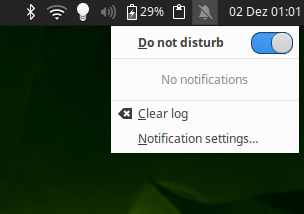 Features
The panel plugin that was introduced in 0.4.0 received some attention, gaining a new hidden option (log-icon-size) for users to set the icon-size for the notifications that are displayed in the menu. Furthermore I added a "Clear log" button and finally decided to revamp the layout of the menu a little, inspired by some work of the elementary folks. Now the "Do not disturb" item is on top (or bottom, depending on your panel layout) of the list for easy and quick/er access and sports a GtkSwitch because the GtkCheckMenuItem was not visible enough.
To top off the changes to the plugin I added a placeholder text in case the log has been cleared or there are no notifications to display (e.g. if the "only notifications from today" filter is set but the log only contains entries from yesterday and before).
Furthermore spent some more time on the notification window layout and it should be very consistent now, so equal spacing between the icon, subject, body, buttons and the edge of the bubble.
Finally I added a configure option to use autostart instead of dbus (Bug #13989), which is a feature some distros (like Mageia) have done already via downstream patches so far and which helps if people have multiple DEs and therefore notification services installed in parallel.
Bugfixes
Regarding bugfixes there are also a few notable mentions. With the help of several contributors the following issues were tackled:
Ensure body and summary of notifications are correctly ellipsized (Bug #12674)
Fix warning about gdk_window_get_origin (Bug #13935)
Ensure the panel plugin icon resizes with Xfce 4.12
Treat icon_data only as pen-ultimate fallback option (Bug #13950)
Remove deprecated functions (Gtk+ 3.22)
Fix warnings reported by Clang (Bug #13931)
Download
So get it while it's hot here: http://archive.xfce.org/src/apps/xfce4-notifyd/0.4/xfce4-notifyd-0.4.1.tar.bz2